Taxi Transfers To and From Malaga Airport
Find Unbeatable Value Taxi Transfers


Malaga Airport Taxis - Fares, Distances and Where to Find Them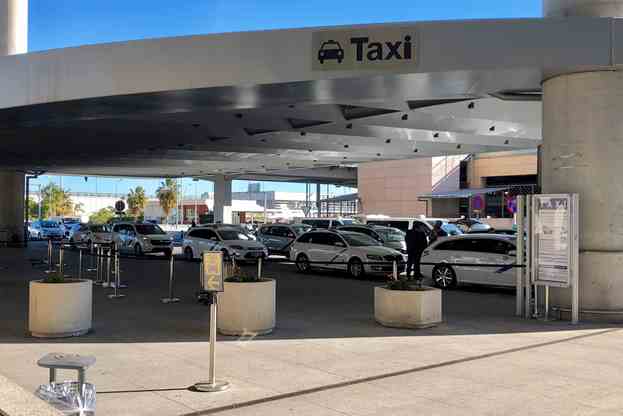 Malaga taxis can be found outside Terminal 3 Level 0 outside the arrivals area and turn to the right.
Malaga airport is connected to the city and the remainder of the Costa del Sol via motorway Ma-21, the Torremolinos to Malaga route. The A-7 also connects to motorway Ma-21 from the west as well as from the south of the greater Malaga region.
Passengers opting for taxis should ensure the driver switches on the taximeter at the start of the journey. The taximeter will display the minimum fare, which is EUR 1.49 with a charge of EUR 0.86 for every further kilometre traveled. Waiting time is calculated at EUR 19.37 per hour. Passengers can expect to pay a minimum of EUR 17.00 for Malaga Airport taxis taking them to destinations outside the airport compound, such as airport hotels for example. These charges apply to Fare 1 type passengers, who travel between the hours of 6.00 am to 10.00 pm on weekdays with Malaga Airport taxis.
Fare 2 type passengers will be charged a minimum fare of EUR 1.85 with every next kilometre traveled being calculated at EUR 1.06 per km. Waiting time will be charged at EUR 24.06 per hour and the minimum airport service will be charged at EUR 19.01. Fare type 2 charges apply to all journeys made between the hours of 10.00 pm to 6.00 am on weekdays, Saturdays and Sundays as well as on during public holidays.
Malaga Airport taxis will also add supplement charges for trips originating or finishing at the airport. The additional charge will be EUR 5.50 and the night schedule will add EUR 2.00 to the fare. For journeys either starting or ending at Levante Port, taxis will charge an additional Euro and any luggage or parcels larger than 60 cm will be charged at EUR 0.45 per piece.
Within the city of Malaga the same charges apply but intercity taxi travel attracts different tariffs. Fare 1 type passengers travelling between the hours of 6.00 am to 10.00 pm on weekdays will be charged EUR 0.58 per km with a minimum airport service charge of EUR 15.21 and a waiting time fare of EUR 14.56 for journeys to Fuengirola for example.
Fare type 2 passengers must pay EUR 0.70 per km for journeys made between the hours of 10.00 pm to 6.00 am during the week, on Saturdays and Sundays as well as during public holidays. Waiting time charges will be EUR 17.48 and minimum airport service fares will be calculated at EUR 19.01.
Passengers should always ask for a receipt or bill in order that they have proof in the event of a complaint at the end of a journey. During the Festival Season and also during Holy Week all passengers journeys will be charged at fare type 2 tariffs. It is possible to pre-book Malaga taxi in advance of arrival by telephoning +34 952 040 804 (Radiotaxi) or +34 952 333 333 (Unitaxi).
A typical journey by taxi to Alhaurin Grande for example (27 km) will be charged at EUR 34.12 at fare type 1 and EUR 40.06 at fare type 2. A trip to Puerto Banus in Marbella (67 km) will cost EUR 76.52 with fare type 1 and EUR 91.26 with fare type 2.
For more information about Malaga taxis, please visit the official airport website at www.aena-aeropuertos.es.
Taxi fares to & from Malaga Airport (AGP)
Taxi Transfer Customer Reviews
Available Transfer Options