Flights, Arrivals & Departures at Malaga Airport
Origin
Airline
Flight no.
Scheduled
Est./Actual
Status
Rabat (RBA)
Ryanair
FR5013
00:10
00:34
Landed
Palma Mallorca (PMI)
Ryanair
FR5729
00:15
02:09
Landed
Warsaw (WAW)
LOT
LO6607
00:22
00:28
Landed
Torp (TRF)
Norwegian
D85031
00:30
00:30
Landed
Warsaw (WAW)
Smartwings
3Z7360
01:00
00:42
Landed
Athens (ATH)
Aegean Airlines
A3718 expand_more(1)
01:05
00:55
Landed
Athens (ATH)
Volotea
V75002
01:05
00:55
Landed
Manama (BAH)
Gulf Air
GF21 expand_more(1)
05:35
05:05
Landed
Manama (BAH)
Etihad Airways
EY3159
05:35
05:05
Landed
Newark (EWR)
United Airlines
UA350
07:35
07:19
Landed
Madrid (MAD)
Air Europa
UX5035 expand_more(2)
07:50
07:50
Landed
Madrid (MAD)
Aeromexico
AM6841
07:50
07:50
Landed
Madrid (MAD)
Etihad Airways
EY7584
07:50
07:50
Landed
Geneva (GVA)
easyJet
U21403
08:20
08:20
Landed
Barcelona (BCN)
Vueling
VY2115 expand_more(2)
08:30
08:13
Landed
Barcelona (BCN)
Iberia
IB5128
08:30
08:13
Landed
Barcelona (BCN)
Qatar Airways
QR3511
08:30
08:13
Landed
Rome (FCO)
Ryanair
FR6299
08:30
08:01
Landed
Milan (MXP)
Ryanair
FR4948
08:30
08:11
Landed
Ceuta (JCU)
HELITY Copter Airlines
HTY203
08:35
Unknown
Manises (VLC)
Iberia Regional
IB8383 expand_more(1)
08:40
08:16
Landed
Manises (VLC)
Vueling
VY5706
08:40
08:16
Landed
Madrid (MAD)
Iberia Express
IB3866 expand_more(3)
08:45
08:47
Landed
Madrid (MAD)
American Airlines
AA8606
08:45
08:47
Landed
Madrid (MAD)
Avianca
AV6151
08:45
08:47
Landed
Madrid (MAD)
Vueling
VY5436
08:45
08:47
Landed
Luxembourg (LUX)
Luxair
LG665
08:50
08:49
Landed
Melilla (MLN)
Iberia Regional
IB8261 expand_more(2)
09:00
09:07
Landed
Melilla (MLN)
Qatar Airways
QR5352
09:00
09:07
Landed
Melilla (MLN)
Vueling
VY5652
09:00
09:07
Landed
Frankfurt (FRA)
Condor
DE1424
09:10
09:50
Landed
Dusseldorf (DUS)
Eurowings
EW9536
09:15
09:19
Landed
Memmingen (FMM)
Ryanair
FR2542
09:15
08:56
Landed
Fez (FEZ)
Ryanair
FR4461
09:15
Unknown
Brussels (BRU)
TUI
TB1011
09:20
Scheduled
Milan (MXP)
easyJet
U23743
09:20
09:03
Landed
Antwerp (ANR)
TUI
TB1003
09:30
09:16
Landed
Hamburg (HAM)
Eurowings
EW7536
09:30
09:26
Landed
Berlin (BER)
easyJet
U25105
09:35
09:25
Landed
Lisbon (LIS)
TAP Express
TP1134 expand_more(2)
09:35
09:43
Landed
Lisbon (LIS)
Azores Airlines
S48690
09:35
09:43
Landed
Lisbon (LIS)
Azul Linhas Aereas
AD7332
09:35
09:43
Landed
Bristol (BRS)
easyJet
U22715
09:40
09:45
Landed
London (LGW)
easyJet
U28067
09:40
09:35
Landed
Vantaa (HEL)
Norwegian
D82882
09:45
10:03
Landed
Berlin (BER)
flynas
EW8536
09:50
Unknown
Derby (EMA)
Ryanair
FR4458
09:50
09:47
Landed
Ibiza (IBZ)
Ryanair
FR9470
09:50
09:29
Landed
Bournemouth (BOH)
Ryanair
FR5944
10:05
09:54
Landed
Vigo (VGO)
VistaJet Malta
VJT861
10:14
10:09
Landed
Dublin (DUB)
Ryanair
FR7044
10:15
10:07
Landed
Shannon (SNN)
Ryanair
FR2848
10:15
10:05
Landed
Rotterdam (RTM)
Transavia
HV5023
10:15
10:12
Landed
Vienna (VIE)
Austrian Airlines
OS381
10:20
10:17
Landed
Amsterdam (AMS)
Vueling
VY8364 expand_more(1)
10:25
10:25
Landed
Amsterdam (AMS)
Iberia
IB5676
10:25
10:25
Landed
Eindhoven (EIN)
Transavia
HV6651
10:25
10:21
Landed
Bucharest (OTP)
Wizz Air
W43189
10:25
Delayed
Amsterdam (AMS)
easyJet
U27889
10:30
10:19
Landed
Las Palmas (LPA)
Vueling
VY3069 expand_more(1)
10:30
10:14
Landed
Las Palmas (LPA)
Iberia
IB5238
10:30
10:14
Landed
London (STN)
Ryanair
FR8162
10:30
10:48
Landed
London (LHR)
Finnair
BA454 expand_more(3)
10:35
10:23
Landed
London (LHR)
Iberia
IB7710
10:35
10:23
Landed
London (LHR)
Jet Linx Aviation
JL6545
10:35
10:23
Landed
London (LHR)
Qatar Airways
QR5925
10:35
10:23
Landed
Oslo (OSL)
Norwegian
DY1800
10:35
10:38
Landed
Stockholm (ARN)
SAS
SK1803
10:40
10:45
Landed
Copenhagen (CPH)
Norwegian
D83670
10:40
10:28
Landed
Bristol (BRS)
Jet2
LS1807
10:40
10:51
Landed
London (LGW)
British Airways
BA2792
10:40
11:17
Landed
Bilbao (BIO)
Vueling
VY2609 expand_more(1)
10:45
11:01
Landed
Bilbao (BIO)
Iberia
IB5190
10:45
11:01
Landed
Barcelona (BCN)
Vueling
VY2111 expand_more(2)
10:50
10:37
Landed
Barcelona (BCN)
Iberia
IB5124
10:50
10:37
Landed
Barcelona (BCN)
Qatar Airways
QR3775
10:50
10:37
Landed
Liverpool (LPL)
easyJet
U23367
11:00
11:05
Landed
Leeds (LBA)
Jet2
LS185
11:05
10:58
Landed
Luton (LTN)
easyJet
U22335
11:05
11:11
Landed
London (LGW)
Wizz Air
W95723
11:10
11:49
Landed
Gdansk (GDN)
Ryanair
FR9918
11:15
11:03
Landed
Istanbul (IST)
Turkish Airlines
TK1303
11:15
10:34
Landed
Birmingham (BHX)
Ryanair
FR2156
11:25
11:23
Landed
Birmingham (BHX)
Jet2
LS1203
11:25
11:47
Landed
Belgrade (BEG)
KlasJet
JU576
11:30
11:30
Landed
Dublin (DUB)
Aer Lingus
EI580 expand_more(1)
11:30
11:28
Landed
Dublin (DUB)
American Airlines
AA8019
11:30
11:28
Landed
Newcastle (NCL)
Jet2
LS557
11:30
11:38
Landed
Derby (EMA)
Jet2
LS605
11:40
11:31
Landed
Luton (LTN)
Ryanair
FR6645
11:50
11:58
Landed
Madrid (MAD)
Air Europa
UX5043 expand_more(2)
11:50
11:33
Landed
Madrid (MAD)
Aeromexico
AM6871
11:50
11:33
Landed
Madrid (MAD)
Etihad Airways
EY5152
11:50
11:33
Landed
Geneva (GVA)
easyJet
U27024
11:50
11:55
Landed
Melilla (MLN)
Iberia Regional
IB8263 expand_more(2)
11:50
11:53
Landed
Melilla (MLN)
Qatar Airways
QR6534
11:50
11:53
Landed
Melilla (MLN)
Vueling
VY5654
11:50
11:53
Landed
Ceuta (JCU)
HELITY Copter Airlines
HTY233
12:05
Scheduled
Manchester (MAN)
easyJet
U22007
12:05
11:51
Landed
Tenerife (TFN)
Vueling
VY3275 expand_more(1)
12:05
Scheduled
Tenerife (TFN)
Iberia
IB5304
12:05
Scheduled
Frankfurt (FRA)
Lufthansa
LH1148 expand_more(1)
12:10
Scheduled
Frankfurt (FRA)
Austrian Airlines
OS7413
12:10
Scheduled
Paris (CDG)
Air France
AF1746 expand_more(1)
12:15
Scheduled
Paris (CDG)
Delta Air Lines
DL8310
12:15
Scheduled
Manchester (MAN)
Jet2
LS809
12:20
Scheduled
Knock (NOC)
Ryanair
FR8748
12:25
Scheduled
Paris (ORY)
Vueling
VY8171 expand_more(1)
12:30
Scheduled
Paris (ORY)
Iberia
IB5814
12:30
Scheduled
Luton (LTN)
easyJet
U22337
12:35
Delayed
London (LGW)
easyJet
U28079
12:35
Delayed
Casablanca (CMN)
Gulf Air
GF20 expand_more(1)
12:40
Scheduled
Casablanca (CMN)
Etihad Airways
EY3158
12:40
Scheduled
London (LGW)
British Airways
BA2794 expand_more(1)
12:40
Scheduled
London (LGW)
Qatar Airways
QR9780
12:40
Scheduled
Dublin (DUB)
Aer Lingus
EI582
12:45
Scheduled
Mulhouse basel (BSL)
easyJet
U27022
12:50
Scheduled
Toulouse (TLS)
Volotea
V72408
12:50
Scheduled
Eindhoven (EIN)
Ryanair
FR2576
12:55
Scheduled
Vienna (VIE)
Austrian Airlines
OS385
12:55
Scheduled
Kuwait City (KWI)
Kuwait Airways
KU121
13:00
Scheduled
London (LCY)
British Airways
BA8487 expand_more(1)
13:10
Scheduled
London (LCY)
Iberia
IB7704
13:10
Scheduled
Dusseldorf (NRN)
Ryanair
FR8612
13:10
Scheduled
Belfast (BFS)
Ryanair
FR9562
13:25
Scheduled
Manchester (MAN)
easyJet
U27002
13:30
Scheduled
Munich (MUC)
Lufthansa
LH1832
13:35
Scheduled
Leeds (LBA)
Ryanair
FR2446
13:40
Scheduled
Tel Aviv Yafo (TLV)
Smartwings
6H151
13:45
Scheduled
Berlin (BER)
Ryanair
FR234
13:55
Scheduled
Bremen (BRE)
Ryanair
FR9930
13:55
Scheduled
London (LGW)
Vueling
VY6615 expand_more(1)
13:55
Delayed
London (LGW)
British Airways
BA8095
13:55
Delayed
Barcelona (BCN)
Ryanair
FR3080
14:00
Scheduled
Copenhagen (CPH)
Ryanair
FR648
14:00
Scheduled
Brno (BRQ)
Cavok Air
CVK7042
14:02
13:19
Landed
Paris (ORY)
Transavia
TO4614
14:15
Scheduled
Gothenburg (GOT)
Norwegian
D85059
14:20
Scheduled
Liverpool (LPL)
Ryanair
FR9862
14:20
Scheduled
Barcelona (BCN)
Vueling
VY2117 expand_more(3)
14:25
Scheduled
Barcelona (BCN)
Iberia
IB5130
14:25
Scheduled
Barcelona (BCN)
LATAM Airlines
LA5748
14:25
Scheduled
Barcelona (BCN)
Qatar Airways
QR3717
14:25
Scheduled
Dublin (DUB)
Ryanair
FR7046
14:25
Scheduled
Lisbon (LIS)
TAP Express
TP1138 expand_more(3)
14:40
Scheduled
Lisbon (LIS)
Air Canada
AC2684
14:40
Scheduled
Lisbon (LIS)
Azores Airlines
S48722
14:40
Scheduled
Lisbon (LIS)
Azul Linhas Aereas
AD7282
14:40
Scheduled
Brussels (BRU)
Brussels Airlines
SN3735 expand_more(2)
14:45
Scheduled
Brussels (BRU)
Air Canada
AC6350
14:45
Scheduled
Brussels (BRU)
Etihad Airways
EY7224
14:45
Scheduled
Melilla (MLN)
Iberia Regional
IB8267 expand_more(2)
14:50
Scheduled
Melilla (MLN)
Qatar Airways
QR5377
14:50
Scheduled
Melilla (MLN)
Vueling
VY5658
14:50
Scheduled
Gothenburg (GOT)
Ryanair
FR2523
15:00
Scheduled
Nantes (NTE)
Volotea
V72214
15:05
14:47
Landed
Zurich (ZRH)
Swiss
LX2114
15:10
Scheduled
Biggin Hill (BQH)
Air Hamburg
AHO749
15:13
Delayed
Bilbao (BIO)
Volotea
V73512
15:15
Delayed
Paris (CDG)
Air France
AF1728 expand_more(1)
15:20
Scheduled
Paris (CDG)
Delta Air Lines
DL8189
15:20
Scheduled
Bergen (BGO)
Norwegian
D85035
15:30
Scheduled
Ceuta (JCU)
HELITY Copter Airlines
HTY251
15:30
Scheduled
Billund (BLL)
Vueling
VY1917
15:35
Scheduled
Barcelona (BCN)
Vueling
VY2121 expand_more(3)
15:35
Scheduled
Barcelona (BCN)
Iberia
IB5134
15:35
Scheduled
Barcelona (BCN)
LATAM Airlines
LA5824
15:35
Scheduled
Barcelona (BCN)
Qatar Airways
QR3510
15:35
Scheduled
Palma Mallorca (PMI)
Lauda Europe
FR5676
15:45
Scheduled
Dublin (DUB)
Aer Lingus
EI584 expand_more(1)
15:55
Scheduled
Dublin (DUB)
American Airlines
AA8108
15:55
Scheduled
Stockholm (ARN)
Norwegian
D85051
16:00
Scheduled
Marseille (MRS)
Ryanair
FR7776
16:00
Scheduled
London (LGW)
easyJet
U28071
16:05
Scheduled
Lanzarote (ACE)
Vueling
VY3141 expand_more(1)
16:10
Delayed
Lanzarote (ACE)
Iberia
IB5254
16:10
Delayed
Madrid (MAD)
Air Europa
UX5039 expand_more(6)
16:15
Scheduled
Madrid (MAD)
Aeromexico
AM6967
16:15
Scheduled
Madrid (MAD)
Etihad Airways
EY7585
16:15
Scheduled
Madrid (MAD)
ITA Airways
AZ2404
16:15
Scheduled
Madrid (MAD)
Kuwait Airways
KU6039
16:15
Scheduled
Madrid (MAD)
MEA
ME2047
16:15
Scheduled
Madrid (MAD)
Tarom
RO9419
16:15
Scheduled
Amsterdam (AMS)
KLM
KL1039 expand_more(2)
16:25
Scheduled
Amsterdam (AMS)
Delta Air Lines
DL9413
16:25
Scheduled
Amsterdam (AMS)
Kenya Airways
KQ1039
16:25
Scheduled
Stockholm (ARN)
Eurowings
EW4616
16:25
Scheduled
Stockholm (ARN)
Ryanair
FR4686
16:25
Scheduled
Ceuta (JCU)
HELITY Copter Airlines
HTY211
16:25
Scheduled
Oviedo Aviles (OVD)
Volotea
V73925
16:25
15:59
Landed
Porto (OPO)
Ryanair
FR7634
16:50
Scheduled
Istanbul (IST)
Turkish Airlines
TK1305
16:55
Scheduled
Madrid (MAD)
Iberia Express
IB3864 expand_more(4)
17:00
Scheduled
Madrid (MAD)
American Airlines
AA8779
17:00
Scheduled
Madrid (MAD)
Avianca
AV6074
17:00
Scheduled
Madrid (MAD)
Qatar Airways
QR6901
17:00
Scheduled
Madrid (MAD)
Vueling
VY5085
17:00
Scheduled
Frankfurt (FRA)
Lufthansa
LH1150 expand_more(1)
17:00
Delayed
Frankfurt (FRA)
Austrian Airlines
OS7411
17:00
Delayed
Las Palmas (LPA)
Vueling
VY3067 expand_more(1)
17:00
Scheduled
Las Palmas (LPA)
Iberia
IB5236
17:00
Scheduled
Tetuan (TTU)
Ryanair
FR4540
17:05
Scheduled
Prague (PRG)
Eurowings
EW4224 expand_more(1)
17:15
Scheduled
Prague (PRG)
Smartwings
QS8120
17:15
Scheduled
Palma Mallorca (PMI)
Vueling
VY3149 expand_more(1)
17:15
Scheduled
Palma Mallorca (PMI)
Iberia
IB5258
17:15
Scheduled
Tallinn (TLL)
Air Baltic
BT879
17:25
Delayed
Cluj-Napoca (CLJ)
Wizz Air
W43415
17:35
Delayed
Ceuta (JCU)
HELITY Copter Airlines
HTY215
17:35
Scheduled
Lyon (LYS)
easyJet
U27048
17:45
Scheduled
Vilnius (VNO)
Air Baltic
BT979
17:55
Scheduled
Eindhoven (EIN)
Transavia
HV6653
18:00
Scheduled
Manchester (MAN)
Ryanair
RK3208
18:00
Delayed
Melilla (MLN)
Iberia Regional
IB8265 expand_more(1)
18:00
Scheduled
Melilla (MLN)
Vueling
VY5656
18:00
Scheduled
Amsterdam (AMS)
Transavia
HV6123 expand_more(2)
18:10
Scheduled
Amsterdam (AMS)
Delta Air Lines
DL7487
18:10
Scheduled
Amsterdam (AMS)
KLM
KL3289
18:10
Scheduled
Dusseldorf (DUS)
Eurowings
EW9534
18:10
Delayed
Hamburg (HAM)
Marabu
DI6036
18:10
Delayed
Dublin (DUB)
Ryanair
FR7054
18:15
Scheduled
Brussels (BRU)
Transavia
HV9033
18:15
Delayed
Lisbon (LIS)
Air Hamburg
AHO724
18:23
Scheduled
Dusseldorf (DUS)
Condor
DE1022
18:35
Scheduled
London (LGW)
easyJet
U26471
18:35
Scheduled
Brussels (CRL)
Ryanair
FR1916
18:45
Scheduled
Lisbon (LIS)
Ryanair
FR3682
18:45
Scheduled
Sofia (SOF)
Bulgaria Air
FB479
18:45
Scheduled
Bergamo (BGY)
Ryanair
FR3398
18:50
Delayed
Tenerife (TFN)
Vueling
VY3277 expand_more(1)
18:55
Scheduled
Tenerife (TFN)
Iberia
IB5306
18:55
Scheduled
Belfast (BFS)
easyJet
U23014
19:00
Delayed
Rotterdam (RTM)
Transavia
HV5021
19:00
Scheduled
Casablanca (CMN)
Royal Air Maroc Express
AT984 expand_more(2)
19:05
Scheduled
Casablanca (CMN)
Iberia
IB1804
19:05
Scheduled
Casablanca (CMN)
Qatar Airways
QR4556
19:05
Scheduled
Paris (LBG)
Valair
VVV331
19:09
Scheduled
Oslo (OSL)
Norwegian
DY1804
19:10
Scheduled
Milan (MXP)
easyJet
U23745
19:15
Scheduled
Brussels (BRU)
Brussels Airlines
SN3737
19:20
Scheduled
Budapest (BUD)
Wizz Air
W62389
19:20
Scheduled
Vantaa (HEL)
Finnair
AY1675 expand_more(1)
19:25
Scheduled
Vantaa (HEL)
Jet Linx Aviation
JL6857
19:25
Scheduled
Bologna (BLQ)
Ryanair
FR3912
19:40
Scheduled
Bilbao (BIO)
Vueling
VY2611 expand_more(1)
19:45
Scheduled
Bilbao (BIO)
Iberia
IB5192
19:45
Scheduled
Cologne (CGN)
Eurowings
EW534
19:45
Scheduled
Budapest (BUD)
Ryanair
FR2273
19:55
Scheduled
Cork (ORK)
Ryanair
FR7735
19:55
Scheduled
Manchester (MAN)
easyJet
U22003
20:00
Scheduled
Bristol (BRS)
easyJet
U22717
20:05
Scheduled
Rome (FCO)
Ryanair
FR6138
20:05
Scheduled
Gothenburg (GOT)
SAS
SK2907
20:05
Scheduled
Copenhagen (CPH)
Norwegian
D83674
20:10
Scheduled
Bordeaux (BOD)
Volotea
V73843
20:10
Scheduled
Amsterdam (AMS)
Transavia
HV6117 expand_more(2)
20:15
Scheduled
Amsterdam (AMS)
Delta Air Lines
DL7482
20:15
Scheduled
Amsterdam (AMS)
KLM
KL2651
20:15
Scheduled
Copenhagen (CPH)
SAS
SK583
20:20
Scheduled
London (LGW)
British Airways
BA2796
20:20
Scheduled
Madrid (MAD)
Air Europa
UX5047 expand_more(2)
20:20
Scheduled
Madrid (MAD)
Aeromexico
AM6903
20:20
Scheduled
Madrid (MAD)
Etihad Airways
EY5153
20:20
Scheduled
Barcelona (BCN)
Vueling
VY2119 expand_more(3)
20:25
Scheduled
Barcelona (BCN)
Iberia
IB5132
20:25
Scheduled
Barcelona (BCN)
LATAM Airlines
LA5827
20:25
Scheduled
Barcelona (BCN)
Qatar Airways
QR3533
20:25
Scheduled
Melilla (MLN)
Iberia Regional
IB8273 expand_more(1)
20:25
Scheduled
Melilla (MLN)
Vueling
VY5664
20:25
Scheduled
Cardiff (CWL)
Ryanair
FR4951
20:30
Scheduled
Ceuta (JCU)
HELITY Copter Airlines
HTY297
20:30
Scheduled
Gdansk (GDN)
Wizz Air
W61613
20:30
Scheduled
Bucharest (OTP)
HiSky
H4261
20:30
Scheduled
Dublin (DUB)
Aer Lingus
EI586
20:35
Scheduled
Vantaa (HEL)
Norwegian
D82886
20:35
Scheduled
Dublin (DUB)
Ryanair
FR8564
20:45
Scheduled
Wroclaw (WRO)
Ryanair
FR2582
20:45
Scheduled
Prague (PRG)
Smartwings
QS1152 expand_more(1)
20:45
Scheduled
Prague (PRG)
Czech Airlines
OK4696
20:45
Scheduled
La Coruna (LCG)
Volotea
V73850
20:50
Scheduled
Hahn (HHN)
Ryanair
FR9910
20:55
Scheduled
Melilla (MLN)
Iberia Regional
IB8271 expand_more(1)
20:55
Scheduled
Melilla (MLN)
Vueling
VY5662
20:55
Scheduled
Madrid (MAD)
Iberia Express
IB3872 expand_more(4)
21:00
Scheduled
Madrid (MAD)
American Airlines
AA8745
21:00
Scheduled
Madrid (MAD)
Avianca
AV6102
21:00
Scheduled
Madrid (MAD)
Qatar Airways
QR6909
21:00
Scheduled
Madrid (MAD)
Vueling
VY5154
21:00
Scheduled
Rome (FCO)
Vueling
VY6211 expand_more(2)
21:00
Scheduled
Rome (FCO)
Iberia
IB5487
21:00
Scheduled
Rome (FCO)
Qatar Airways
QR3789
21:00
Scheduled
Manchester (MAN)
Ryanair
FR3232
21:05
Scheduled
London (STN)
Ryanair
FR8164
21:05
Scheduled
Edinburgh (EDI)
Ryanair
FR5663
21:10
Scheduled
Glasgow (GLA)
easyJet
U23105
21:15
Scheduled
Paderborn (PAD)
Ryanair
FR9873
21:15
Scheduled
Derby (EMA)
Ryanair
FR4468
21:20
Scheduled
Prestwick (PIK)
Ryanair
FR655
21:20
Scheduled
Manises (VLC)
Iberia Regional
IB8381 expand_more(1)
21:25
Scheduled
Manises (VLC)
Vueling
VY5704
21:25
Scheduled
Santiago De Compostela (SCQ)
Vueling
VY2654 expand_more(1)
21:25
Scheduled
Santiago De Compostela (SCQ)
Iberia
IB5195
21:25
Scheduled
NIce (NCE)
Hyperion Aviation
HYP28
21:27
Scheduled
Belfast (BFS)
easyJet
U23016
22:10
Scheduled
London (STN)
Ryanair
FR8168
22:10
Scheduled
Lyon (LYS)
Volotea
V72918
22:15
Scheduled
London (LGW)
easyJet
U28077
22:30
Scheduled
Paris (ORY)
Transavia
TO4790
22:30
Scheduled
Paris (CDG)
easyJet
U27044
22:50
Scheduled
Lisbon (LIS)
TAP Express
TP1136 expand_more(4)
22:55
Scheduled
Lisbon (LIS)
Azores Airlines
S48756
22:55
Scheduled
Lisbon (LIS)
Azul Linhas Aereas
AD7228
22:55
Scheduled
Lisbon (LIS)
Emirates
EK4874
22:55
Scheduled
Lisbon (LIS)
LOT
LO4781
22:55
Scheduled
Bristol (BRS)
Ryanair
FR4121
23:00
Cancelled
Cork (ORK)
Aer Lingus
EI886
23:00
Scheduled
Santiago De Compostela (SCQ)
Ryanair
FR2574
23:00
Scheduled
Madrid (MAD)
Air Europa
UX5031 expand_more(1)
23:05
Scheduled
Madrid (MAD)
Aeromexico
AM6875
23:05
Scheduled
Cologne (CGN)
Ryanair
FR8804
23:20
Scheduled
Bristol (BRS)
easyJet
U27004
23:20
Scheduled
Liverpool (LPL)
easyJet
U23369
23:20
Scheduled
London (LGW)
Vueling
VY6617 expand_more(1)
23:25
Scheduled
London (LGW)
British Airways
BA8107
23:25
Scheduled
Barcelona (BCN)
Vueling
VY2113 expand_more(2)
23:30
Scheduled
Barcelona (BCN)
Iberia
IB5126
23:30
Scheduled
Barcelona (BCN)
Qatar Airways
QR3531
23:30
Scheduled
Paris (CDG)
Air France
AF1748 expand_more(1)
23:35
Scheduled
Paris (CDG)
WestJet
WS5113
23:35
Scheduled
Bordeaux (BOD)
Ryanair
FR2755
23:35
Scheduled
Copenhagen (CPH)
Vueling
VY1915 expand_more(1)
23:35
Scheduled
Copenhagen (CPH)
Iberia
IB5117
23:35
Scheduled
Brussels (BRU)
Vueling
VY2151 expand_more(1)
23:35
Scheduled
Brussels (BRU)
Iberia
IB5136
23:35
Scheduled
Paris (ORY)
Vueling
VY8173 expand_more(1)
23:35
Scheduled
Paris (ORY)
Iberia
IB5816
23:35
Scheduled
Zurich (ZRH)
Swiss
LX2120
23:40
Scheduled
Geneva (GVA)
easyJet
U27026
23:55
Scheduled
Ibiza (IBZ)
Ryanair
FR8147
23:59
Scheduled
Stockholm (VST)
Ryanair
FR2578
23:59
Scheduled
Destination
Airline
Flight no.
Scheduled
Est./Actual
Status
London (LGW)
easyJet
U28138
00:05
00:40
En-Route
Warsaw (WAW)
LOT
LO6608
01:40
01:43
En-Route
Warsaw (WAW)
Smartwings
3Z7361
01:50
02:06
En-Route
Athens (ATH)
Aegean Airlines
A3719 expand_more(1)
01:55
01:58
En-Route
Athens (ATH)
Volotea
V75003
01:55
01:58
En-Route
Knock (NOC)
Ryanair
FR8749
06:00
06:07
En-Route
Copenhagen (CPH)
Ryanair
FR647
06:05
06:13
En-Route
Paris (CDG)
Air France
AF1749 expand_more(2)
06:05
06:24
En-Route
Paris (CDG)
Delta Air Lines
DL8264
06:05
06:24
En-Route
Paris (CDG)
WestJet
WS5100
06:05
06:24
En-Route
London (LGW)
easyJet
U28078
06:10
06:28
En-Route
Gothenburg (GOT)
Norwegian
D85058
06:10
06:14
En-Route
Berlin (BER)
Ryanair
FR235
06:15
06:26
En-Route
Madrid (MAD)
Air Europa
UX5032 expand_more(1)
06:15
06:22
En-Route
Madrid (MAD)
Aeromexico
AM6872
06:15
06:22
En-Route
Paris (ORY)
Transavia
TO4791
06:20
06:36
En-Route
Ibiza (IBZ)
Ryanair
FR9469
06:25
06:30
En-Route
Stockholm (ARN)
Norwegian
D85050
06:30
06:47
En-Route
Manchester (MAN)
easyJet
U27001
06:35
06:42
En-Route
Bremen (BRE)
Ryanair
FR9929
06:35
06:48
En-Route
Geneva (GVA)
easyJet
U27023
06:35
06:38
En-Route
Casablanca (CMN)
Gulf Air
GF21 expand_more(1)
06:35
06:40
En-Route
Casablanca (CMN)
Etihad Airways
EY3159
06:35
06:40
En-Route
Eindhoven (EIN)
Ryanair
FR2575
06:40
07:07
En-Route
Belfast (BFS)
Ryanair
FR9563
06:40
06:51
En-Route
Tenerife (TFN)
Vueling
VY3274 expand_more(1)
06:40
06:57
En-Route
Tenerife (TFN)
Iberia
IB5303
06:40
06:57
En-Route
Gothenburg (GOT)
Ryanair
FR2524
06:45
07:03
En-Route
Barcelona (BCN)
Vueling
VY2110 expand_more(2)
06:45
07:09
En-Route
Barcelona (BCN)
Iberia
IB5123
06:45
07:09
En-Route
Barcelona (BCN)
Qatar Airways
QR3503
06:45
07:09
En-Route
Weeze (NRN)
Ryanair
FR8613
06:50
07:11
En-Route
Paris (ORY)
Vueling
VY8172 expand_more(1)
06:50
07:13
En-Route
Paris (ORY)
Iberia
IB5815
06:50
07:13
En-Route
Basel (BSL)
easyJet
U27021
07:00
07:05
En-Route
Bergen (BGO)
Norwegian
D85034
07:00
07:00
En-Route
Bilbao (BIO)
Vueling
VY2608 expand_more(1)
07:10
07:21
En-Route
Bilbao (BIO)
Iberia
IB5189
07:10
07:21
En-Route
Stockholm (ARN)
Ryanair
FR4687
07:10
07:16
En-Route
Leeds (LBA)
Ryanair
FR2447
07:15
07:25
En-Route
Melilla (MLN)
Iberia Regional
IB8260 expand_more(1)
07:20
09:16
En-Route
Melilla (MLN)
Vueling
VY5651
07:20
09:16
En-Route
Valencia (VLC)
Iberia Regional
IB8382 expand_more(1)
07:30
07:39
En-Route
Valencia (VLC)
Vueling
VY5705
07:30
07:39
En-Route
London (LGW)
Vueling
VY6614 expand_more(1)
07:35
07:55
En-Route
London (LGW)
British Airways
BA8094
07:35
07:55
En-Route
Billund (BLL)
Vueling
VY1916
07:45
08:03
En-Route
Dublin (DUB)
Ryanair
FR7045
07:55
08:04
En-Route
Liverpool (LPL)
Ryanair
FR9863
08:00
08:15
En-Route
Madrid (MAD)
Air Europa
UX5042 expand_more(5)
08:35
08:51
En-Route
Madrid (MAD)
Aeromexico
AM6992
08:35
08:51
En-Route
Madrid (MAD)
Etihad Airways
EY4313
08:35
08:51
En-Route
Madrid (MAD)
Kuwait Airways
KU6042
08:35
Scheduled
Madrid (MAD)
MEA
ME2046
08:35
08:51
En-Route
Madrid (MAD)
Tarom
RO9452
08:35
08:51
En-Route
Zurich (ZRH)
Swiss
LX2121
08:45
08:54
En-Route
Geneva (GVA)
easyJet
U21404
08:55
09:09
En-Route
Milan (MXP)
Ryanair
FR4949
09:05
09:13
En-Route
Rome (FCO)
Ryanair
FR6298
09:05
09:11
En-Route
Barcelona (BCN)
Vueling
VY2114 expand_more(2)
09:10
09:15
En-Route
Barcelona (BCN)
Iberia
IB5127
09:10
09:15
En-Route
Barcelona (BCN)
Qatar Airways
QR3507
09:10
09:15
En-Route
Ceuta (JCU)
HELITY Copter Airlines
HTY204
09:25
Scheduled
Madrid (MAD)
Iberia Express
IB3865 expand_more(7)
09:25
09:44
En-Route
Madrid (MAD)
American Airlines
AA8500
09:25
09:44
En-Route
Madrid (MAD)
Avianca
AV6059
09:25
09:44
En-Route
Madrid (MAD)
British Airways
BA7163
09:25
09:44
En-Route
Madrid (MAD)
Cathay Pacific
CX1879
09:25
09:44
En-Route
Madrid (MAD)
LATAM Airlines
LA5405
09:25
09:44
En-Route
Madrid (MAD)
Qatar Airways
QR6869
09:25
09:44
En-Route
Madrid (MAD)
Vueling
VY5435
09:25
09:44
En-Route
Melilla (MLN)
Iberia Regional
IB8262 expand_more(1)
09:30
10:04
En-Route
Melilla (MLN)
Vueling
VY5653
09:30
10:04
En-Route
Luxembourg (LUX)
Luxair
LG666
09:40
09:59
En-Route
New York (EWR)
United Airlines
UA351
09:40
10:08
En-Route
Memmingen (FMM)
Ryanair
FR2541
09:50
10:12
En-Route
Brussels (BRU)
TUI
TB1012
09:55
Scheduled
Fes (FEZ)
Ryanair
FR4460
10:00
10:57
En-Route
Antwerp (ANR)
TUI
TB1004
10:05
10:22
En-Route
Dusseldorf (DUS)
Eurowings
EW9537
10:05
10:26
En-Route
Milan (MXP)
easyJet
U23744
10:10
10:17
En-Route
Berlin (BER)
easyJet
U25106
10:10
10:28
En-Route
Frankfurt (FRA)
Condor
DE1425
10:10
11:10
En-Route
London (LGW)
easyJet
U28068
10:15
10:30
En-Route
Bristol (BRS)
easyJet
U22716
10:25
11:07
En-Route
Nottingham (EMA)
Ryanair
FR4459
10:25
10:51
En-Route
Lisbon (LIS)
TAP Express
TP1133 expand_more(3)
10:25
10:44
En-Route
Lisbon (LIS)
Air Canada
AC2687
10:25
10:44
En-Route
Lisbon (LIS)
Azores Airlines
S48703
10:25
10:44
En-Route
Lisbon (LIS)
Azul Linhas Aereas
AD7337
10:25
10:44
En-Route
Helsinki (HEL)
Norwegian
D82883
10:30
11:03
En-Route
Hamburg (HAM)
Eurowings
EW7537
10:30
10:36
En-Route
Bournemouth (BOH)
Ryanair
FR5945
10:40
11:04
En-Route
Berlin (BER)
flynas
EW8537
10:40
Scheduled
Shannon (SNN)
Ryanair
FR2849
10:50
11:13
En-Route
Amsterdam (AMS)
Vueling
VY8365 expand_more(1)
11:05
11:32
En-Route
Amsterdam (AMS)
Iberia
IB5677
11:05
11:32
En-Route
Dublin (DUB)
Ryanair
FR7047
11:05
11:16
En-Route
Amsterdam (AMS)
easyJet
U27890
11:05
11:21
En-Route
Amsterdam (AMS)
Transavia
HV6124 expand_more(2)
11:05
11:25
En-Route
Amsterdam (AMS)
Delta Air Lines
DL7479
11:05
11:25
En-Route
Amsterdam (AMS)
KLM
KL3291
11:05
11:25
En-Route
Vienna (VIE)
Austrian Airlines
OS382
11:05
11:19
En-Route
Bucharest (OTP)
Wizz Air
W43190
11:10
Scheduled
Gran Canaria (LPA)
Vueling
VY3068 expand_more(1)
11:10
11:27
En-Route
Gran Canaria (LPA)
Iberia
IB5237
11:10
11:27
En-Route
London (STN)
Ryanair
FR8163
11:10
11:58
En-Route
Eindhoven (EIN)
Transavia
HV6652
11:15
11:23
En-Route
Oslo (OSL)
Norwegian
DY1801
11:20
11:38
En-Route
Copenhagen (CPH)
Norwegian
D83671
11:25
11:30
En-Route
Bristol (BRS)
Jet2
LS1808
11:25
Scheduled
Lanzarote (ACE)
Vueling
VY3140 expand_more(1)
11:25
Scheduled
Lanzarote (ACE)
Iberia
IB5253
11:25
Scheduled
Stockholm (ARN)
SAS
SK1804
11:30
12:01
En-Route
Barcelona (BCN)
Vueling
VY2120 expand_more(2)
11:30
11:45
En-Route
Barcelona (BCN)
Iberia
IB5133
11:30
11:45
En-Route
Barcelona (BCN)
Qatar Airways
QR3509
11:30
11:45
En-Route
Marseille (MRS)
Ryanair
FR7775
11:35
Scheduled
Liverpool (LPL)
easyJet
U23368
11:35
Scheduled
London (LTN)
easyJet
U22336
11:40
Scheduled
London (LGW)
British Airways
BA2793
11:40
Scheduled
London (LHR)
Finnair
BA455 expand_more(2)
11:45
Scheduled
London (LHR)
Iberia
IB7711
11:45
Scheduled
London (LHR)
Qatar Airways
QR5926
11:45
Scheduled
Gdansk (GDN)
Ryanair
FR9917
11:50
Scheduled
London (LGW)
Wizz Air
W95724
11:55
Scheduled
Birmingham (BHX)
Ryanair
FR2157
12:00
Scheduled
Dubai (DXB)
VistaJet Malta
VJT861
12:00
Scheduled
Leeds (LBA)
Jet2
LS186
12:05
Scheduled
Istanbul (IST)
Turkish Airlines
TK1304
12:05
Scheduled
Newcastle (NCL)
Jet2
LS558
12:15
Scheduled
Birmingham (BHX)
Jet2
LS1204
12:25
Scheduled
Melilla (MLN)
Iberia Regional
IB8264 expand_more(1)
12:25
Scheduled
Melilla (MLN)
Vueling
VY5655
12:25
Scheduled
London (LTN)
Ryanair
FR6644
12:30
Scheduled
Nottingham (EMA)
Jet2
LS606
12:30
Scheduled
Madrid (MAD)
Air Europa
UX5036 expand_more(3)
12:35
Scheduled
Madrid (MAD)
Aeromexico
AM6968
12:35
Scheduled
Madrid (MAD)
Etihad Airways
EY7583
12:35
Scheduled
Madrid (MAD)
ITA Airways
AZ2431
12:35
Scheduled
Manchester (MAN)
easyJet
U22008
12:40
Scheduled
Lyon (LYS)
easyJet
U27047
12:40
Scheduled
Dublin (DUB)
Aer Lingus
EI581
12:40
Scheduled
Frankfurt (FRA)
Lufthansa
LH1149 expand_more(1)
13:00
Scheduled
Frankfurt (FRA)
Austrian Airlines
OS7414
13:00
Scheduled
Belgrade (BEG)
KlasJet
JU577
13:00
Scheduled
Paris (CDG)
Air France
AF1747
13:05
Scheduled
Belfast (BFS)
easyJet
U23013
13:10
Scheduled
Ceuta (JCU)
HELITY Copter Airlines
HTY206
13:20
Scheduled
Manchester (MAN)
Jet2
LS810
13:20
Scheduled
Milan (BGY)
Ryanair
FR3399
13:20
Scheduled
Bristol (BRS)
easyJet
U27003
13:25
Scheduled
Toulouse (TLS)
Volotea
V72409
13:25
Scheduled
Tenerife (TFN)
Vueling
VY3276 expand_more(1)
13:30
Scheduled
Tenerife (TFN)
Iberia
IB5305
13:30
Scheduled
Palma de Mallorca (PMI)
Vueling
VY3148 expand_more(1)
13:35
Scheduled
Palma de Mallorca (PMI)
Iberia
IB5257
13:35
Scheduled
London (LGW)
British Airways
BA2795
13:40
Scheduled
Bahrain (BAH)
Gulf Air
GF20 expand_more(1)
13:40
Scheduled
Bahrain (BAH)
Etihad Airways
EY3158
13:40
Scheduled
Dublin (DUB)
Aer Lingus
EI583
13:45
Scheduled
Vienna (VIE)
Austrian Airlines
OS386
13:45
Scheduled
London (LCY)
British Airways
BA8488 expand_more(1)
13:50
Scheduled
London (LCY)
Iberia
IB7705
13:50
Scheduled
Cork (ORK)
Ryanair
FR7736
13:55
Scheduled
Bologna (BLQ)
Ryanair
FR3913
14:00
Scheduled
Rome (FCO)
Ryanair
FR6139
14:15
Scheduled
Dakar (DSS)
Cavok Air
CVK7042
14:30
Scheduled
Paderborn (PAD)
Ryanair
FR9872
14:30
Scheduled
Kuwait City (KWI)
Kuwait Airways
KU122
14:30
Scheduled
Munich (MUC)
Lufthansa
LH1833
14:30
Scheduled
Paris (CDG)
easyJet
U27043
14:40
Scheduled
Barcelona (BCN)
Ryanair
FR3081
14:40
Scheduled
Tel Aviv (TLV)
Smartwings
6H152
14:45
Scheduled
Manchester (MAN)
Ryanair
FR3209
14:45
Scheduled
London (LGW)
easyJet
U28080
14:45
Scheduled
Cardiff (CWL)
Ryanair
FR4950
14:50
Scheduled
Paris (ORY)
Transavia
TO4615
15:05
Scheduled
Stockholm (VST)
Ryanair
FR2577
15:05
Scheduled
Barcelona (BCN)
Vueling
VY2116 expand_more(2)
15:10
Scheduled
Barcelona (BCN)
Iberia
IB5129
15:10
Scheduled
Barcelona (BCN)
Qatar Airways
QR3564
15:10
Scheduled
Tetuan (TTU)
Ryanair
FR4539
15:10
Scheduled
Stockholm (ARN)
Norwegian
D85054
15:10
Scheduled
Copenhagen (CPH)
Vueling
VY1914 expand_more(1)
15:20
Scheduled
Copenhagen (CPH)
Iberia
IB5116
15:20
Scheduled
Lisbon (LIS)
TAP Express
TP1135 expand_more(3)
15:25
Scheduled
Lisbon (LIS)
Azores Airlines
S48747
15:25
Scheduled
Lisbon (LIS)
Azul Linhas Aereas
AD7341
15:25
Scheduled
Lisbon (LIS)
Emirates
EK4875
15:25
Scheduled
Brussels (BRU)
Brussels Airlines
SN3736 expand_more(1)
15:35
Scheduled
Brussels (BRU)
All Nippon Airways
NH5136
15:35
Scheduled
Melilla (MLN)
Iberia Regional
IB8266 expand_more(2)
15:35
Scheduled
Melilla (MLN)
Qatar Airways
QR6539
15:35
Scheduled
Melilla (MLN)
Vueling
VY5657
15:35
Scheduled
Bilbao (BIO)
Volotea
V73513
15:45
Scheduled
Lisbon (LIS)
Ryanair
FR3683
15:50
Scheduled
Bordeaux (BOD)
Volotea
V73842
15:55
Scheduled
Zurich (ZRH)
Swiss
LX2115
16:00
Scheduled
Paris (CDG)
Air France
AF1729
16:15
Scheduled
Barcelona (BCN)
Vueling
VY2118 expand_more(2)
16:20
Scheduled
Barcelona (BCN)
Iberia
IB5131
16:20
Scheduled
Barcelona (BCN)
Qatar Airways
QR3517
16:20
Scheduled
Palma de Mallorca (PMI)
Lauda Europe
FR5677
16:20
Scheduled
Copenhagen (CPH)
Norwegian
D85074
16:20
Scheduled
Ceuta (JCU)
HELITY Copter Airlines
HTY2522
16:25
Scheduled
Cork (ORK)
Aer Lingus
EI885
16:35
Scheduled
Billund (BLL)
Ryanair
FR2531
16:45
Scheduled
London (LGW)
easyJet
U28072
16:45
Scheduled
Cologne (CGN)
Ryanair
FR8805
16:50
Scheduled
Stavanger (SVG)
Norwegian
D85036
16:50
Scheduled
A Coruna (LCG)
Volotea
V73851
16:55
Scheduled
Madrid (MAD)
Air Europa
UX5050 expand_more(2)
17:05
Scheduled
Madrid (MAD)
Aeromexico
AM6870
17:05
Scheduled
Madrid (MAD)
Etihad Airways
EY4308
17:05
Scheduled
Ceuta (JCU)
Helity Copter Airlines
HTY252
17:05
16:28
En-Route
Brussels (BRU)
Vueling
VY2150 expand_more(1)
17:10
Scheduled
Brussels (BRU)
Iberia
IB5135
17:10
Scheduled
London (LGW)
Vueling
VY6616 expand_more(1)
17:10
Scheduled
London (LGW)
British Airways
BA8106
17:10
Scheduled
Stockholm (ARN)
Eurowings
EW4617
17:10
Scheduled
Bristol (BRS)
Ryanair
FR4122
17:15
Scheduled
Amsterdam (AMS)
KLM
KL1040 expand_more(2)
17:15
Scheduled
Amsterdam (AMS)
Delta Air Lines
DL9352
17:15
Scheduled
Amsterdam (AMS)
Kenya Airways
KQ1040
17:15
Scheduled
Porto (OPO)
Ryanair
FR7635
17:25
Scheduled
Madrid (MAD)
Iberia Express
IB3867 expand_more(3)
17:40
Scheduled
Madrid (MAD)
Avianca
AV6167
17:40
Scheduled
Madrid (MAD)
Qatar Airways
QR6882
17:40
Scheduled
Madrid (MAD)
Vueling
VY5118
17:40
Scheduled
Santiago (SCQ)
Vueling
VY2655 expand_more(1)
17:40
Scheduled
Santiago (SCQ)
Iberia
IB5196
17:40
Scheduled
Istanbul (IST)
Turkish Airlines
TK1306
17:45
Scheduled
Frankfurt (FRA)
Lufthansa
LH1151 expand_more(1)
17:50
Scheduled
Frankfurt (FRA)
Austrian Airlines
OS7404
17:50
Scheduled
Paris (ORY)
Vueling
VY8174 expand_more(1)
17:55
Scheduled
Paris (ORY)
Iberia
IB5817
17:55
Scheduled
Prague (PRG)
Eurowings
EW4225 expand_more(1)
18:00
Scheduled
Prague (PRG)
Smartwings
QS8121
18:00
Scheduled
Melilla (MLN)
Iberia Regional
IB8276 expand_more(2)
18:00
Scheduled
Melilla (MLN)
Qatar Airways
QR6541
18:00
Scheduled
Melilla (MLN)
Vueling
VY5667
18:00
Scheduled
Valencia (VLC)
Iberia Regional
5M131
18:00
Scheduled
Tallinn (TLL)
Air Baltic
BT880
18:10
Scheduled
Cluj-Napoca (CLJ)
Wizz Air
W43416
18:25
Scheduled
Amsterdam (AMS)
Ryanair
FR2334
18:25
Scheduled
Geneva (GVA)
easyJet
U27025
18:30
Scheduled
Manchester (MAN)
Ryanair
RK3233
18:35
Scheduled
Melilla (MLN)
Iberia Regional
IB8274 expand_more(2)
18:35
Scheduled
Melilla (MLN)
Qatar Airways
QR6558
18:35
Scheduled
Melilla (MLN)
Vueling
VY5665
18:35
Scheduled
Vilnius (VNO)
Air Baltic
BT980
18:35
Scheduled
Ceuta (JCU)
HELITY Copter Airlines
HTY292
18:50
Scheduled
Dublin (DUB)
Ryanair
FR7055
18:50
Scheduled
Eindhoven (EIN)
Transavia
HV6654
18:50
Scheduled
Brussels (BRU)
Transavia
HV9034
19:00
Scheduled
Dusseldorf (DUS)
Eurowings
EW9535
19:00
Scheduled
Rotterdam (RTM)
Transavia
HV5024
19:05
Scheduled
Hamburg (HAM)
Marabu
DI6037
19:10
Scheduled
Paris (BVA)
Ryanair
FR540
19:20
Scheduled
Brussels (CRL)
Ryanair
FR1915
19:20
Scheduled
Bordeaux (BOD)
Ryanair
FR2754
19:25
Scheduled
London (LGW)
easyJet
U26472
19:30
Scheduled
Sofia (SOF)
Bulgaria Air
FB480
19:30
Scheduled
London (LTN)
easyJet
U22338
19:35
Scheduled
Barcelona (BCN)
Vueling
VY2112 expand_more(2)
19:35
Scheduled
Barcelona (BCN)
Iberia
IB5125
19:35
Scheduled
Barcelona (BCN)
Qatar Airways
QR3779
19:35
Scheduled
Dusseldorf (DUS)
Condor
DE1023
19:40
Scheduled
Milan (MXP)
easyJet
U23746
19:50
Scheduled
Rotterdam (RTM)
Transavia
HV5022
19:50
Scheduled
Oslo (OSL)
Norwegian
DY1805
19:55
Scheduled
Casablanca (CMN)
Royal Air Maroc Express
AT985 expand_more(2)
19:55
Scheduled
Casablanca (CMN)
Iberia
IB1807
19:55
Scheduled
Casablanca (CMN)
Qatar Airways
QR4584
19:55
Scheduled
Budapest (BUD)
Wizz Air
W62390
20:00
Scheduled
Mahon (MAH)
Ryanair
FR6511
20:15
Scheduled
Helsinki (HEL)
Finnair
AY1676 expand_more(1)
20:15
Scheduled
Helsinki (HEL)
Jet Linx Aviation
JL6888
20:15
Scheduled
Brussels (BRU)
Brussels Airlines
SN3738
20:20
Scheduled
Bilbao (BIO)
Vueling
VY2610 expand_more(1)
20:25
Scheduled
Bilbao (BIO)
Iberia
IB5191
20:25
Scheduled
Cologne (CGN)
Eurowings
EW535
20:25
Scheduled
Budapest (BUD)
Ryanair
FR2274
20:35
Scheduled
Ibiza (IBZ)
Ryanair
FR8146
20:40
Scheduled
Vitoria (VIT)
Ryanair
FR4241
20:40
Scheduled
Nantes (NTE)
Volotea
V72215
20:40
Scheduled
Bristol (BRS)
easyJet
U22718
20:45
Scheduled
Gothenburg (GOT)
SAS
SK2908
20:55
Scheduled
Copenhagen (CPH)
Norwegian
D83675
20:55
Scheduled
Manchester (MAN)
easyJet
U22004
20:55
Scheduled
Amsterdam (AMS)
Transavia
HV6118 expand_more(1)
21:05
Scheduled
Amsterdam (AMS)
KLM
KL2652
21:05
Scheduled
Palma de Mallorca (PMI)
Vueling
VY3150 expand_more(1)
21:05
Scheduled
Palma de Mallorca (PMI)
Iberia
IB5259
21:05
Scheduled
London (LGW)
British Airways
BA2797
21:05
Scheduled
Rabat (RBA)
Ryanair
FR5012
21:10
Scheduled
Copenhagen (CPH)
SAS
SK584
21:10
Scheduled
Madrid (MAD)
Air Europa
UX5038 expand_more(2)
21:10
Scheduled
Madrid (MAD)
Aeromexico
AM6974
21:10
Scheduled
Madrid (MAD)
Etihad Airways
EY7582
21:10
Scheduled
Helsinki (HEL)
Norwegian
D82887
21:20
Scheduled
Gdansk (GDN)
Wizz Air
W61614
21:20
Scheduled
Dublin (DUB)
Aer Lingus
EI587
21:25
Scheduled
Wroclaw (WRO)
Ryanair
FR2581
21:25
Scheduled
Ceuta (JCU)
HELITY Copter Airlines
HTY216
21:25
Scheduled
Asturias (OVD)
Volotea
V73924
21:30
Scheduled
Prague (PRG)
Smartwings
QS1153 expand_more(1)
21:30
Scheduled
Prague (PRG)
Czech Airlines
OK4697
21:30
Scheduled
Frankfurt (HHN)
Ryanair
FR9909
21:35
Scheduled
Dublin (DUB)
Ryanair
FR8563
21:35
Scheduled
Marrakesh (RAK)
Ryanair
FR3909
21:40
Scheduled
Madrid (MAD)
Iberia Express
IB3873 expand_more(2)
21:40
Scheduled
Madrid (MAD)
Avianca
AV6055
21:40
Scheduled
Madrid (MAD)
Vueling
VY5156
21:40
Scheduled
London (STN)
Ryanair
FR8165
21:40
Scheduled
Edinburgh (EDI)
Ryanair
FR5664
21:45
Scheduled
Rome (FCO)
Vueling
VY6210 expand_more(2)
21:50
Scheduled
Rome (FCO)
Iberia
IB5486
21:50
Scheduled
Rome (FCO)
Qatar Airways
QR3794
21:50
Scheduled
Glasgow (GLA)
easyJet
U23106
21:50
Scheduled
Valencia (VLC)
Iberia Regional
IB8380 expand_more(2)
21:55
Scheduled
Valencia (VLC)
Qatar Airways
QR6545
21:55
Scheduled
Valencia (VLC)
Vueling
VY5703
21:55
Scheduled
Nador (NDR)
Ryanair
FR3148
21:55
Scheduled
Nottingham (EMA)
Ryanair
FR4469
22:00
Scheduled
Prestwick (PIK)
Ryanair
FR656
22:05
Scheduled
Gran Canaria (LPA)
Vueling
VY3066 expand_more(1)
22:05
Scheduled
Gran Canaria (LPA)
Iberia
IB5235
22:05
Scheduled
Bucharest (OTP)
HiSky
H4262
22:10
Scheduled
Belfast (BFS)
easyJet
U23015
22:45
Scheduled
London (STN)
Ryanair
FR8169
22:45
Scheduled
Lyon (LYS)
Volotea
V72919
22:50
Scheduled
Santiago (SCQ)
Ryanair
FR2573
23:35
Scheduled
Dublin (DUB)
Aer Lingus
EI589 expand_more(1)
23:50
Scheduled
Dublin (DUB)
American Airlines
AA8049
23:50
Scheduled
Liverpool (LPL)
easyJet
U23370
23:55
Scheduled
Flying To and From Malaga Airport
This page provides information about the destinations that can be reached via Malaga Airport.

Was your flight delayed or cancelled?
You may be eligible to receive up to 600 EUR compensation per person in your party..
Claim Now!
Beat the Queues
Don't stand sweating for 45 mins waiting for Security. Get a fast track and get through in 5 mins or less.
Book now
Lounge like a VIP
Avoid the crowds. Get discounted access to the VIP airport lounge. Its not as expensive as you may think.
Book now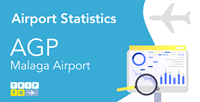 Comparing the data to the pre-pandemic levels in July 2019, the airport witnessed a remarkable increase in passengers. In July 2019, the airport served 2,228,460 passengers; in July 2023, the number rose to 2,432,411...