Train Transfers To and From Malaga Airport



Malaga International Airport Train Transfers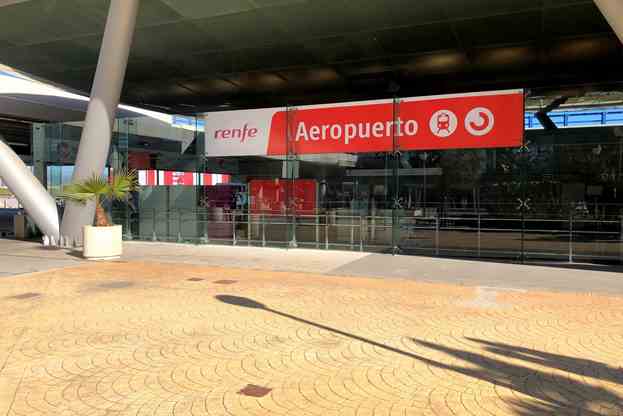 Malaga Airport is located within an 8 km/5 miles distance southwest of Malaga. Also within just 5 km/3.1 mile of Torremolinos, the airport has excellent public transport connections by train, taxi and bus.
Malaga trains run for the airport's own Transportation Hub, which is located below Terminal 3. From the arrivals and departure areas passengers have direct access to the Transportation Hub. Suburban trains from the airport don't take long to reach Malaga city center and some of the other resorts along the Mediterranean coast.
Trains from AGP also leave for Fuengirola, Benalmadena and Torremolinos. Malaga trains take only 10 minutes to Torremolinos and 12 minutes to the center of Malaga, where a main line train station is located. Trains arrive at the Transportation Hub located below Terminal 3.
Line C1 of Renfe's suburban line leaves Terminal 3 for the center of Malaga and a number of other destinations along the coast. A trip on train to Torremolinos costs 1.60 euros one way. A journey to Benalmadena costs 1.85 euros for a single ticket and train trip to Fuengirola cost 2.70 euros one way.
In Malaga city centre trains stop at Malaga-Maria Zambrano and Victoria Kent stations. Passengers for Campanillas will need to change at Malaga-Maria Zambrano or Victoria Kent station to suburban line C2. Depending on the time of day, the journey can take as little as 20 minutes or as much as one hour, depending on the train connection, so it is important to check train times for the return journey to the airport (www.renfe.com).
Passengers without an internet connections can obtain information on train times and suburban connections from the official helpline on +34 902 320 320.
Within the city there are several zones for different fares. Zones 1 and 2 attract a train fare of 1.60 euros, while zone 3 tickets cost 1.85 euros. Zone 4 tickets are charged at 2.50 euros and zone 5 tickets cost 3.35 euros. Tickets are valid for two hours from the time of purchase.
From Malaga-Maria Zambrano trains leave on C2 for Cordoba, stopping at all intermittent stations in between, such as Los Prados, Campanillas, Cartama, Aljaima, Pizarra and Alora, before reaching Cordoba.
Line C1 trains leave for Fuengirola from Malaga-Centro-Alameda station, stopping at all intermittent train stations in between, such as San Andres, Guadalhorce, Terminal Cargo and Malaga Airport, San Julian, Plaza Mayor, Los Alamos, La Colina, Torremolinos, Montemar-Alto, El Pinillo, Benalmadena, Torremuelle, Carvajal, Torreblanca, Los Boliches and finally Fuengirola.
At present there is no direct train connection via line C1 between Malaga-Maria Zambrano and Centro-Alamada train stations, which is due to improvements being made on the rail network.
The main train station within the city is Malaga-Maria Zambrano, which is located in the heart of the city and right next to the main bus terminal. The mainline train station is just a 9 km distance from the airport and a mere 2 km distance from the harbour.
While trains at Malaga Airport are just suburban, fairly slow travelling trains, the high-speed trains AVE from Malaga-Maria Zambrano link the Costa del Sol with destinations like Barcelona, Madrid and other parts of the province. There's a large shopping center located within this train station, which also has a tourist information office to offer.
Visitors staying in mainly in Malaga for their holiday can have great days out with cheap train travel. A trip to Fuengirola doesn't take long (it's just 8 km away) and their famous beaches, seafront promenade and port make a pleasant change of scenery for a day.
For more information about Malaga trains, please visit the official airport website at www.aena-aeropuertos.es.
How to get to the train station at Malaga Airport