MALAGA AIRPORT (AGP) INFORMATION
Origin
Airline
Flight no.
Scheduled
Est./Actual
Status
No flight arrivals were found at Malaga Airport.
Destination
Airline
Flight no.
Scheduled
Est./Actual
Status
No flight departures were found at Malaga Airport.
Car Hire at Malaga Airport
UNBEATABLE VALUE CAR RENTAL
Free Amendments | Free Cancellations | No Card Fees




Malaga Airport - All Information on Malaga Airport (AGP) Malaga Airport
Av. del Comandante García Morato, s/n, 29004, Málaga, Spain
phone +34 913 21 10 00
phone+34 659 142 495 (Lost + Found)
emailinfoagp@e-externas.aena.es
emailobjetosperdidosagp@aena.es (Lost+Found)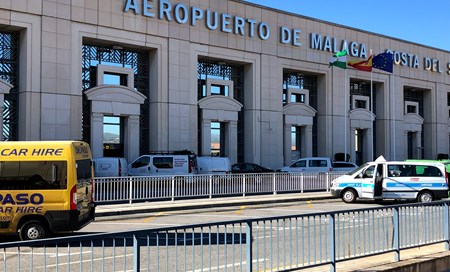 Malaga Airport is Spain's fourth busiest after Madrid-Barajas, Barcelona and Palma de Mallorca. The airport is located approximately 8 km/5 miles southwest of the city of Malaga and is just a 5 km/3.1 mile distance from the famous resort of Torremolinos.
There are more than 60 countries served with flights from Malaga, one of Spain's most important tourist gateways into the coastal regions and the main resorts. Some 19 million passengers passed through the Airport in 2018 up from 18.6 million the previous year, an increase of 2.1%.
Spain has had a revival of its tourism industry and visitors are pouring into the country every spring and summer from all over Europe, but there are also flight connections to the Middle East, to Africa and North America, since Spain ranks in fourth position as one of the most popular holiday destinations in the world.
Some 85 per cent of Andalucía's international aviation traffic passes through the gates of Malaga Airport. As perhaps Spain's foremost region for holidaymakers and expats alike, Andalucía's main airport has links to some twenty cities in the rest of Spain and more than one hundred major cities in Europe. Malaga also serves the Rock of Gibraltar, a popular second residence for British expats.
The airport is a hub for budget airlines such as Vueling and Ryanair, but also a base for Aer Lingus, Air Berlin, Air Europa, Air France, Austrian Airlines and Air Italy to name but a few of the major international airlines using the location.
Arriving and departing passengers have three terminal buildings with facilities and amenities at their disposal, which can vary according to the age of the terminal. Terminal 1 is the oldest and is about to undergo a major refurbishment, so currently there are no flights operating from Terminal 1. Terminal 2 offers better facilities for passengers but is also undergoing major changes to cope with the large number of passengers arriving and departing every year.
Arrivals, Departures and Airlines at Malaga Airport
The latest addition is Terminal 3, which opened to the public in 2010. Costing 410 million Euros to construct, the terminal has 86 check-in counters and 20 new boarding gates as well as 12 baggage reclaim carousels. Malaga Airport's Terminal 3 can boast the largest food hall in Europe as well as the first National Geographic store in the world. Being able to cope with more than 9,000 passengers an hour, this new terminal is envisaged to handle eventually 30 million passengers per year.
There is a wide range of car rental companies at Malaga Airport, along with taxis, buses and trains for onward travel. 
Eateries like Burger King, Starbucks and Pizza Hut are catering for the snack-hungry passengers, while a large number of shops allow passengers to shop for last minute gifts or items they require during their holiday.
To cope with the increase in passengers a new car park has also been built at the airport. This new facility is large enough to hold 2,500 cars on seven floors of car park with additional underground parking facilities large enough for 66 coaches.
Malaga Airport has a motorway connection to the city and other parts of the Costa del Sol via the Ma-21, the Torremolinos to Malaga route. At terminal 3 passengers have direct access from the arrivals areas to the Transportation Hub, where bus and train services can be found. The bus station is located below the terminals. Bus tickets for coaches and suburban lines can be bought directly in terminal 3 at the exit of the arrivals area.
For more information about Malaga Airport, please visit the official airport website at www.aena-aeropuertos.es.
Parking at Malaga Airport
See options for parking services at Malaga Airport.
Hotels near Malaga Airport
There are a number of hotels to suit all budgets and requirements at or near Malaga Airport.
Additional Services and Amenities at Malaga Airport
At Malaga Airport you will find the usual array of bars and restaurants, airport lounges and shops.
Things to do in Malaga
There are a number of activities to suit all ages and interests in the region - see a selection of tourist activities in Malaga, Spain.
Services at Malaga Airport
Useful Information about Malaga Airport