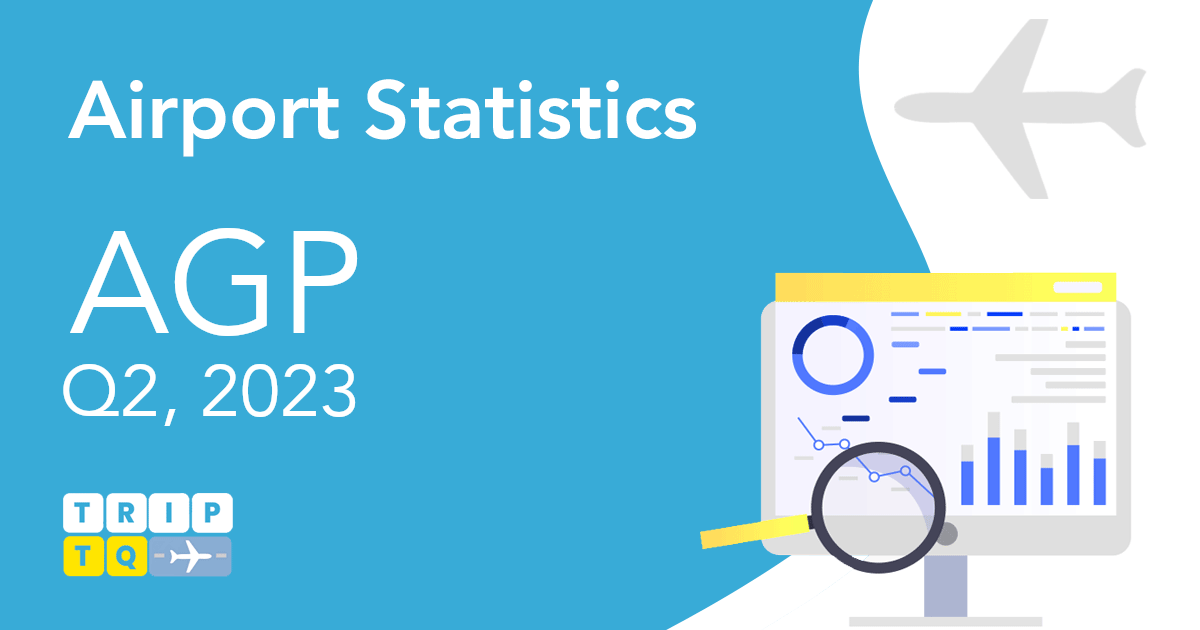 Malaga Airport Sees Steady Recovery in Passenger Numbers in Q2 2023
Malaga Airport (AGP) has witnessed a remarkable recovery in passenger numbers during the second quarter of 2023, signaling a positive trend for the aviation industry. Let's delve into the statistics and explore the changes in passenger traffic over the past four years.
Q2 2023: A Promising Increase in Passenger Numbers
In Q2 2023, Malaga Airport recorded a total of 6,351,715 passengers, representing a 17.20% increase compared to the same quarter of the previous year. This growth indicates a steady recovery and a return to pre-pandemic levels.
Comparing Q2 2023 to Previous Years
Q2 2019: In 2019, Malaga Airport welcomed 5,796,512 passengers during the second quarter. This figure serves as a benchmark for pre-pandemic travel.
Q2 2020: The impact of the COVID-19 pandemic was evident in Q2 2020, with only 64,368 passengers recorded. This drastic decrease of 98.89% highlights the severe disruption faced by the aviation industry.
Q2 2021: As travel restrictions eased, Q2 2021 witnessed a significant rebound, with 1,231,195 passengers recorded. This represents a staggering increase of 1812.74% compared to the previous year.
Q2 2022: The recovery continued in Q2 2022, with passenger numbers reaching 5,419,576. This marked a substantial growth of 340.19% compared to the same quarter in 2021.
Overall, the steady growth in passenger numbers from Q2 2020 to Q2 2023 demonstrates the resilience of Malaga Airport and the gradual return of travelers.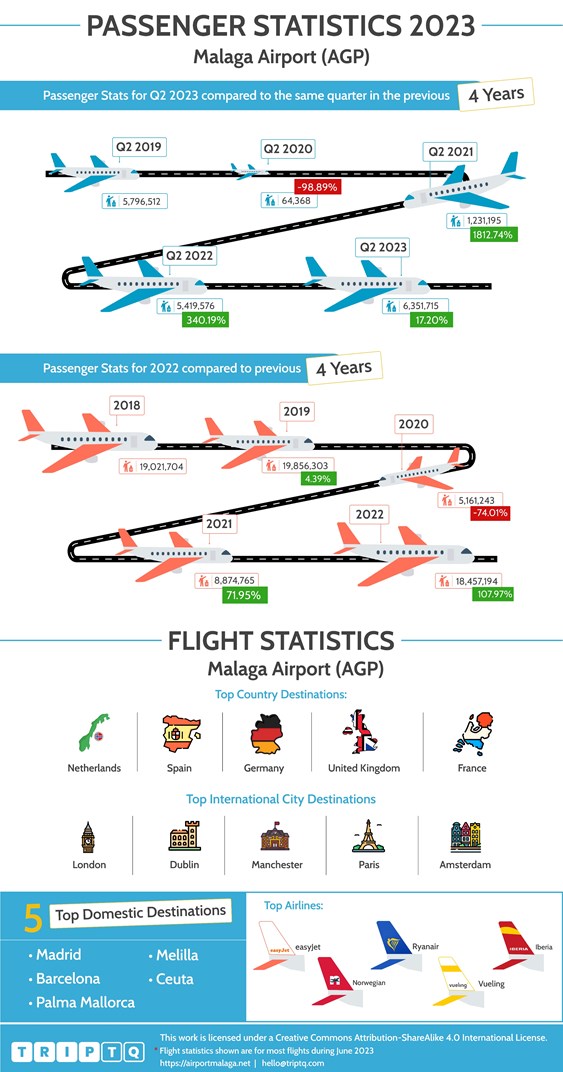 This work is licensed under a
Creative Commons Attribution 4.0 International License
.
View Full Size
Passenger Stats for 2022: A Year of Recovery
Looking at the annual passenger statistics, 2022 proved to be a year of recovery for Malaga Airport.
2018: In 2018, the airport handled 19,021,704 passengers, setting a high benchmark for subsequent years.
2019: The following year, 19,856,303 passengers were recorded, representing a 4.39% increase from the previous year.
2020: The COVID-19 pandemic had a significant impact on travel, resulting in a sharp decline in passenger numbers. In 2020, Malaga Airport saw only 5,161,243 passengers, reflecting a substantial decrease of 74.01% compared to 2019.
2021: As travel restrictions eased, 2021 witnessed a rebound in passenger numbers, with 8,874,765 travelers recorded. This marked a notable increase of 71.95% compared to the previous year.
2022: The recovery continued in 2022, with a remarkable surge in passenger numbers. Malaga Airport welcomed 18,457,194 passengers, representing an impressive growth of 107.97% compared to 2021.
Top Destinations and Airlines
Malaga Airport remains a popular hub for both domestic and international travel. Here are the top destinations and airlines based on flight statistics for June 2023:
Top Country Destinations: The United Kingdom, Spain, Germany, France, and the Netherlands are the top countries that passengers travel to from Malaga Airport.
Top International Destinations: London, Paris, Dublin, Amsterdam, and Manchester are the most popular international destinations from Malaga Airport.
Top Domestic Destinations: Madrid, Barcelona, Melilla, Ceuta, and Palma Mallorca are the top domestic destinations for travelers departing from Malaga Airport.
Top Airlines: Ryanair, Vueling, easyJet, Norwegian, and Iberia are the leading airlines operating at Malaga Airport.
As the aviation industry continues to recover, Malaga Airport is witnessing a steady increase in passenger numbers. With the easing of travel restrictions and the availability of vaccines, the future looks promising for both domestic and international travel from this popular Spanish airport.
Are you a travel publisher and would like this information for your site/blog/publication?
Contact us on this form to request Malaga Airport Statistics (Statistics, data and infographics are available for a wide range of airports worldwide - please tell us your requirements using the form)
UNBEATABLE VALUE CAR RENTAL

FREE
Amendments,
FREE
Cancellations,
NO
card fees!

airport_shuttle Need Airport Transfers?
Useful Information about Malaga Airport