Malaga Airport Departures (AGP)
Not all flights may be showing. If not available use search above to find your flight by airline, airport or flight number.
Destination
Airline
Flight no.
Scheduled
Est./Actual
Status
Warsaw (WMI)
Buzz
FR4059
08:55
Scheduled
Barcelona (BCN)
Ryanair
FR3183
08:55
Scheduled
London (LTN)
Ryanair
FR6644
08:55
Scheduled
Birmingham (BHX)
Ryanair
FR2157
08:55
Scheduled
Edinburgh (EDI)
Ryanair
FR5664
09:00
Scheduled
Madrid (MAD)
Air Europa
UX5038 expand_more(3)
09:05
Scheduled
Madrid (MAD)
Aeromexico
AM6974
09:05
Scheduled
Madrid (MAD)
AirSERBIA
JU7490
09:05
Scheduled
Madrid (MAD)
Etihad Airways
EY7582
09:05
Scheduled
Rome (FCO)
Vueling
VY6211 expand_more(2)
09:05
Scheduled
Rome (FCO)
Iberia
IB5409
09:05
Scheduled
Rome (FCO)
Qatar Airways
QR3690
09:05
Scheduled
Budapest (BUD)
Wizz Air
W62390
09:15
Scheduled
Dublin (DUB)
Ryanair
FR7047
09:35
Scheduled
Newcastle (NCL)
Ryanair
FR430
09:35
Scheduled
Manchester (MAN)
easyJet
U22004
09:35
Scheduled
Shannon (SNN)
Ryanair
FR2849
09:40
Cancelled
Bordeaux (BOD)
Ryanair
FR2754
09:45
Scheduled
Manchester (MAN)
Ryanair
FR3209
10:00
Scheduled
Marrakesh (RAK)
Ryanair
FR3909
10:30
Scheduled
No flight departures were found at Malaga Airport.
Flight Departures at Malaga Airport
Serving more than 60 countries with flights, Malaga departures can travel to all parts of the globe, be their destination in Europe, the Middle East, North America or Africa.
Malaga Airport is Spain's the fourth busiest airport after Madrid-Barajas, Barcelona and Palma de Mallorca Airport. Both expats and holidaymakers heading for the Costa del Sol resorts use the airport, which is located some 8 km / 5 miles southwest of the city of Malaga and a mere 5 km/3.1 mile from Torremolinos, one of the most popular resorts at the Costa del Sol. Getting to the airport is easy, as excellent public transport links are available.
Departures at Malaga Airport typically travel by one of the many budget airlines offering cheap flights and regular flights to the Andalucía region. Airlines such as BmiBaby, Easyjet, Air Europe, Germanwings, Air Nostrum, Vueling and Air Berlin, Ryanair and Aer Lingus as well as major airlines such as Alitalia and British Airways, Aeroflot and Finnair to name but a few. From Aalborg to domestic Alicante, from London to domestic Barcelona, from Paris to Basel, from Belfast to Berlin and Bilbao, there are flight connections that cover the globe.
Malaga Departures are handled at Terminal 2 and the new Terminal 3, inaugurated in 2010. Malaga Airport departures have 86 check-in counters and 20 new boarding gates at their disposal, and can eat out in the largest food hall in Europe. Blessed with a huge number of shops for duty free as well as regular shopping, Terminal 3 has not only the first National Geographic store in the world to offer, but also caters for shoppers looking for accessories and jewelry, fashion, electronics and famous sports brands like Adidas for example.
Malaga Airport departures looking for a quick snack prior to catching their flight home can find a large number of food outlets such as Burger King, Starbucks and Pizza Hut as well as cafes, bars and regular restaurants at Terminal 2 and 3. A pharmacy takes care of any last minute nerves about flying home. Banking services are available at Terminal 3. A VIP lounge can be found at Terminal 3 also. There are seven hotels within a close distance of the airport.
The airport is connected to Malaga and the Costa del Sol resorts via motorway Ma-21, which is also known as the Torremolinos to Malaga route.
Malaga departures have direct access to the departure as well as the arrivals areas from the Transportation Hub located below the airport, where bus and suburban train services arrive from the coastal resorts. City buses, intercity buses and long-distance coaches all travel to bus and train terminal. While the City from Malaga take around 15 minutes to reach the airport, the suburban trains, which link terminal 3 with Fuengirola, Benalmadena, Malaga and Torremolinos, take only 10 minutes from Torremolinos and 12 minutes from the center of Malaga to reach the airport.
Malaga Airport taxis drop passengers off either at the taxi rank, which is located outside Terminal 3 near the arrivals area or directly in front of the departure area at either Terminal 2 or 3, depending on the airline and destination the passengers requires.
For more information about Malaga departures, please visit the official airport website at www.aena-aeropuertos.es.
Was your flight delayed or cancelled?
You may be eligible to receive up to 600 EUR compensation per person in your party..
Claim Now!
Beat the Queues
Don't stand sweating for 45 mins waiting for Security. Get a fast track and get through in 5 mins or less.
Book now
Lounge like a VIP
Avoid the crowds. Get discounted access to the VIP airport lounge. Its not as expensive as you may think.
Book now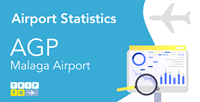 Malaga Airport has recently achieved a remarkable milestone. According to official passenger statistics, the airport witnessed a staggering 11.86% increase in passenger numbers, totaling 2,267,220 passengers compared to September 2019's recorded figure of 2,026,920.