Malaga Airport Arrivals (AGP)
Not all flights may be showing. If not available use search above to find your flight by airline, airport or flight number.
Origin
Airline
Flight no.
Scheduled
Est./Actual
Status
Bilbao (BIO)
Vueling
VY2611 expand_more(1)
10:55
Scheduled
Bilbao (BIO)
Iberia
IB5200
10:55
Scheduled
Copenhagen (CPH)
Vueling
VY1915 expand_more(1)
11:00
Scheduled
Copenhagen (CPH)
Iberia
IB5127
11:00
Scheduled
Tenerife (TFN)
Vueling
VY3277 expand_more(1)
11:05
Delayed
Tenerife (TFN)
Iberia
IB5280
11:05
Delayed
Barcelona (BCN)
Vueling
VY2121 expand_more(2)
11:10
Delayed
Barcelona (BCN)
Iberia
IB5155
11:10
Delayed
Barcelona (BCN)
Qatar Airways
QR3531
11:10
Delayed
Copenhagen (CPH)
Norwegian
D85075
11:10
22:59
Landed
Lisbon (LIS)
TAP Express
TP1138 expand_more(3)
11:15
Scheduled
Lisbon (LIS)
Azores Airlines
S48722
11:15
Scheduled
Lisbon (LIS)
Azul Linhas Aereas
AD7282
11:15
Scheduled
Lisbon (LIS)
Emirates
EK4874
11:15
Scheduled
Budapest (BUD)
Ryanair
FR2273
11:25
Scheduled
London (LGW)
Vueling
VY6617 expand_more(1)
11:25
Scheduled
London (LGW)
British Airways
BA8079
11:25
Scheduled
Gothenburg (GOT)
Norwegian
D85059
11:30
Scheduled
Vantaa (HEL)
Finnair
AY1673 expand_more(1)
11:35
Scheduled
Vantaa (HEL)
Jet Linx Aviation
JL6891
11:35
Scheduled
Paris (CDG)
Air France
AF1748
11:40
Scheduled
Hamburg (HAM)
Ryanair
FR4058
11:55
Delayed
No flight arrivals were found at Malaga Airport.
Flight Arrivals at Malaga Airport
Malaga Airport (AGP) is the fourth busiest airport in Spain after Madrid-Barajas, Barcelona and Palma de Mallorca Airport, serving mainly expats and holidaymakers heading for the Costa del Sol. The airport is located some 8 km/5 miles southwest of Malaga and situated just 5 km/3.1 mile from Torremolinos, one of the most popular resorts at the Costas.
Serving more than 60 countries with flights, Malaga arrivals come from all over Europe, the Middle East and even from as far away as North American and Africa. As one of the world's most popular holiday destinations and a mecca for the beach-side expat, the Costa del Sol's gateway is simply Malaga Airport. Spain is in fourth position as one of the world's favourite holiday destinations and over the past two years has seen a large increase in tourist numbers with overnight stays in hotel accommodation being up significantly, as well as self-catering holiday letting being on the up.
The region of Andalucía is one of Spain's most popular, offering a huge number of tourist attractions. Arrivals at Malaga can use budget airlines such as Air Europe, Vueling and Air Berlin, Ryanair and Aer Lingus as well as major airlines such as Air France and Austrian Airlines to name but a few. From London to Birmingham, from Paris to Bucharest, there are flight connections for Malaga arrivals to choose from that cover the world.
Malaga Airport arrivals have three terminal buildings with facilities and amenities at their disposal; however, these rather vary depending on the age of the terminal building. Terminal 1 is the oldest of the three buildings and is about to undergo major refurbishment and redevelopment. Terminal 2 offers better facilities for passengers but is also undergoing redevelopment to cope with the large number of passengers arriving and departing every day.
Most arrivals at Malaga take place at Terminal 3, which was inaugurated in 2010. Departures at Malaga have 86 check-in counters and 20 new boarding gates at their disposal, where arrivals are offered 12 baggage reclaim carousels from where to retrieve their belongings. Malaga Airport arrivals are treated to the largest food hall in Europe at Terminal 3 and with a little time at their hands they can visit the first National Geographic store in the world as well as find the famous brand of Adidas at the terminal's store.
For a quick bite to eat prior to taking one of the many resort coaches leaving from the underground transportation hub and bus station at the airport, Malaga Airport arrivals have snack bars like Burger King, Starbucks and Pizza Hut as well as cafes, bars and full restaurant services for their use.
The airport is connected to Malaga and the Costa del Sol resorts via motorway Ma-21, which is also known as the Torremolinos to Malaga route.
There is a wide range of car rental companies in and near Malaga Airport.
Terminal 3 arrivals at Malaga have direct access from the arrivals areas to the Transportation Hub below the airport buildings, where bus and suburban train services take passengers to the coastal resorts. Bus tickets for the coaches and city buses can be bought directly at terminal 3 from the machines located at the exit of the arrivals area. City buses, intercity buses and long-distance coaches are all available from this hub. City buses to Malaga take around 15 minutes to reach the center.
The suburban trains link terminal 3 with the towns of Fuengirola, Malaga and Torremolinos. It takes just 10 minutes to reach Torremolinos and 12 minutes to travel to the center of Malaga.
Arrivals at Malaga can also travel by taxi. The taxi rank is located outside Terminal 3 by the arrivals area.
For more information about Malaga arrivals, please visit the official airport website at www.aena-aeropuertos.es.
Was your flight delayed or cancelled?
You may be eligible to receive up to 600 EUR compensation per person in your party..
Claim Now!
Beat the Queues
Don't stand sweating for 45 mins waiting for Security. Get a fast track and get through in 5 mins or less.
Book now
Lounge like a VIP
Avoid the crowds. Get discounted access to the VIP airport lounge. Its not as expensive as you may think.
Book now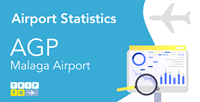 Malaga Airport has recently achieved a remarkable milestone. According to official passenger statistics, the airport witnessed a staggering 11.86% increase in passenger numbers, totaling 2,267,220 passengers compared to September 2019's recorded figure of 2,026,920.