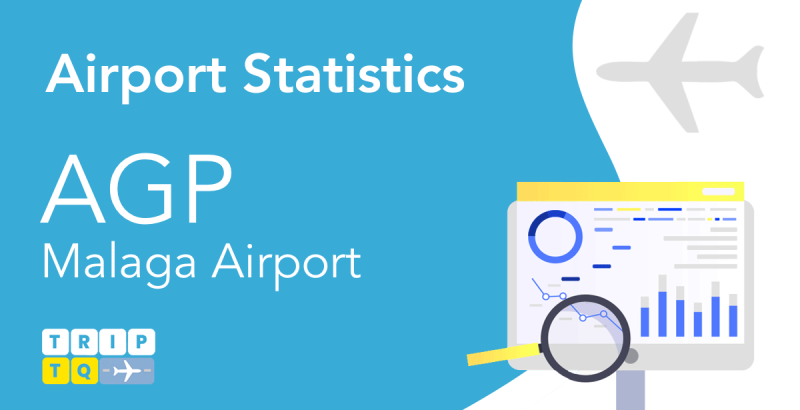 Malaga Airport Witnesses Record-Breaking 19% Growth in Q3 2023
Malaga Airport's robust recovery in passenger numbers in Q3 2023 reached 18.50% compared to the same quarter in 2019, surpassing pre-pandemic levels. The comparison with Q3 2021, which experienced a 139.40% passenger surge, further underscores Malaga Airport's stature as a leading tourism destination and highlights a rebound in travel demand.
Passenger Growth at Malaga Airport Continues in Q3 2023
Malaga Airport (AGP) in Spain has reported positive passenger statistics for the third quarter of 2023, indicating a steady recovery from the impact of the global pandemic. Malaga Airport has consistently grown passenger numbers compared to the same quarter in the previous four years. The airport's success can be attributed to its diverse range of destinations and airlines, making it a preferred choice for domestic and international travelers.
Passenger Volume - Q3 2019 to Q3 2023
Q3 2019 saw a total of 6,461,279 passengers at Malaga Airport. However, due to the impact of the global pandemic, Q3 2020 experienced a significant decline, with only 1,619,886 passengers, representing a decrease of 74.93% compared to the previous year.
Fortunately, the airport started recovering in Q3 2021, with 3,877,984 passengers, a 139.40% increase from the previous year. This positive trend continued in Q3 2022, with 6,007,347 passengers, representing a 54.91% increase from the same quarter in the previous year.
The latest figures for Q3 2023 show further growth, with a total of 7,118,703 passengers. This represents an 18.50% increase compared to the same quarter of the previous year.
Passenger Traffic - 2018 to 2022
When comparing the passenger statistics for 2022 to the previous four years, it is evident that Malaga Airport has made a remarkable recovery from the impact of the pandemic.
2018, the airport recorded 19,021,704 passengers, slightly increasing to 19,856,303 in 2019, representing a 4.39% growth. However, 2020 saw a sharp decline, with only 5,161,243 passengers, a decrease of 74.01% compared to the previous year.
Fortunately, the recovery began in 2021, with 8,874,765 passengers, a 71.95% increase from the previous year. The most significant recovery was in 2022, with 18,457,194 passengers, representing an impressive 107.97% increase from the previous year.
Flight Statistics - September 2023
Malaga Airport is a popular hub for both domestic and international travel. The top country destinations from the airport include the United Kingdom, Spain, Germany, France, and the Netherlands. This indicates a diverse range of travelers from various European countries.
Regarding international destinations, Malaga Airport passengers' top choices are London, Paris, Dublin, Amsterdam, and Brussels. These cities attract many travelers for business, leisure, and cultural purposes.
For domestic travel within Spain, the top destinations from Malaga Airport are Madrid, Barcelona, Melilla, Ceuta, and Palma Mallorca. These cities are major economic and tourist centers within the country.
Regarding airlines, the top carriers operating at Malaga Airport include Ryanair, Vueling, easyJet, Norwegian, and Iberia Regional. These airlines offer a wide range of domestic and international flights, providing passengers with various options for their travel needs.
Are you a travel publisher and would like this information for your site/blog/publication?
Contact us on this form to request Malaga Airport Statistics (Statistics, data and infographics are available for a wide range of airports worldwide - please tell us your requirements using the form)
UNBEATABLE VALUE CAR RENTAL

FREE
Amendments,
FREE
Cancellations,
NO
card fees!

airport_shuttle Need Airport Transfers?
Useful Information about Malaga Airport